Idaho Division of Veterans Services Announces Dedication Ceremony & Open House of the Idaho State Veterans Home in Post Falls
Tuesday November 8, 2022
Post Falls, ID – The newest Idaho State Veterans Home located at 590 S. Pleasant View Road, Post Falls, Idaho 83854, will hold a Dedication Ceremony on Friday, November 11, 2022, at 2:00 p.m. The ceremony was scheduled to take place outside, but due to the current weather conditions will be moved indoors. There will be LIMITED CAPACITY for the Ceremony (maximum 170). Admittance will begin at 1:40 p.m. and is on a first come basis. Street parking is available or a parking lot behind the facility can be accessed from 1180 Clearwater Loop.
Due to limited capacity for the Ceremony, the public is encouraged to attend the facility Open House afterwards from 3:00-5:00 p.m.
For the Ceremony, Governor Brad Little will be in attendance and will read a Veterans Day Proclamation. The keynote speaker will be Post Falls resident Len Crosby, who is a Vietnam Veteran, Silver Star and Double Purple Heart recipient. Special guests will include former Idaho Governor Butch Otter, Post Falls Mayor Ron Jacobson, Idaho Veteran Affairs Commission members, along with other local dignitaries and business professionals.
Idaho Division of Veterans Services broke ground and began site work on the Veterans Home in late 2020. Full time construction commenced in April 2021, and a publicly attended "topping out" ceremony was held in August 2021 when the final steel beam of the frame was hoisted into place.
The Post Falls Veterans Home is a 64-bed skilled nursing facility which has a centralized community center, chapel, therapy room, dining room, sports bar with big screen televisions, multiple common areas, and a canteen. The facility also includes a common food preparation area, a laundry facility, maintenance supply areas, a covered pickup and drop-off area, and parking for 90 vehicles.
Two State Veteran Service Officers (VSOs) from the Office of Veterans Advocacy will have offices in the building. Their job is to help all area veterans, their family members and survivors pursue federal and state benefits they have earned through their military service. These State VSOs are currently located at the Kootenai County Veteran Services Office. State VSO's will move but the County VSO will remain at the 120 Railroad Ave location in Post Falls.
To submit a pre-admission application to the Post Falls Veterans Home or the other Homes in Boise, Lewiston, or Pocatello please go to: https://veterans.idaho.gov/pressrelease/idaho-state-veterans-home-admissions-application/
If you would like to work at this new facility and offer quality care to our U.S. Military Veterans please check out open positions at: Job Opportunities | Locations: post falls | Departments: Division of Veterans Services | Sorted by Posting Date descending | State of Idaho (governmentjobs.com). There are open positions for Social Workers, Nursing Staff, and Kitchen/Dietary Staff.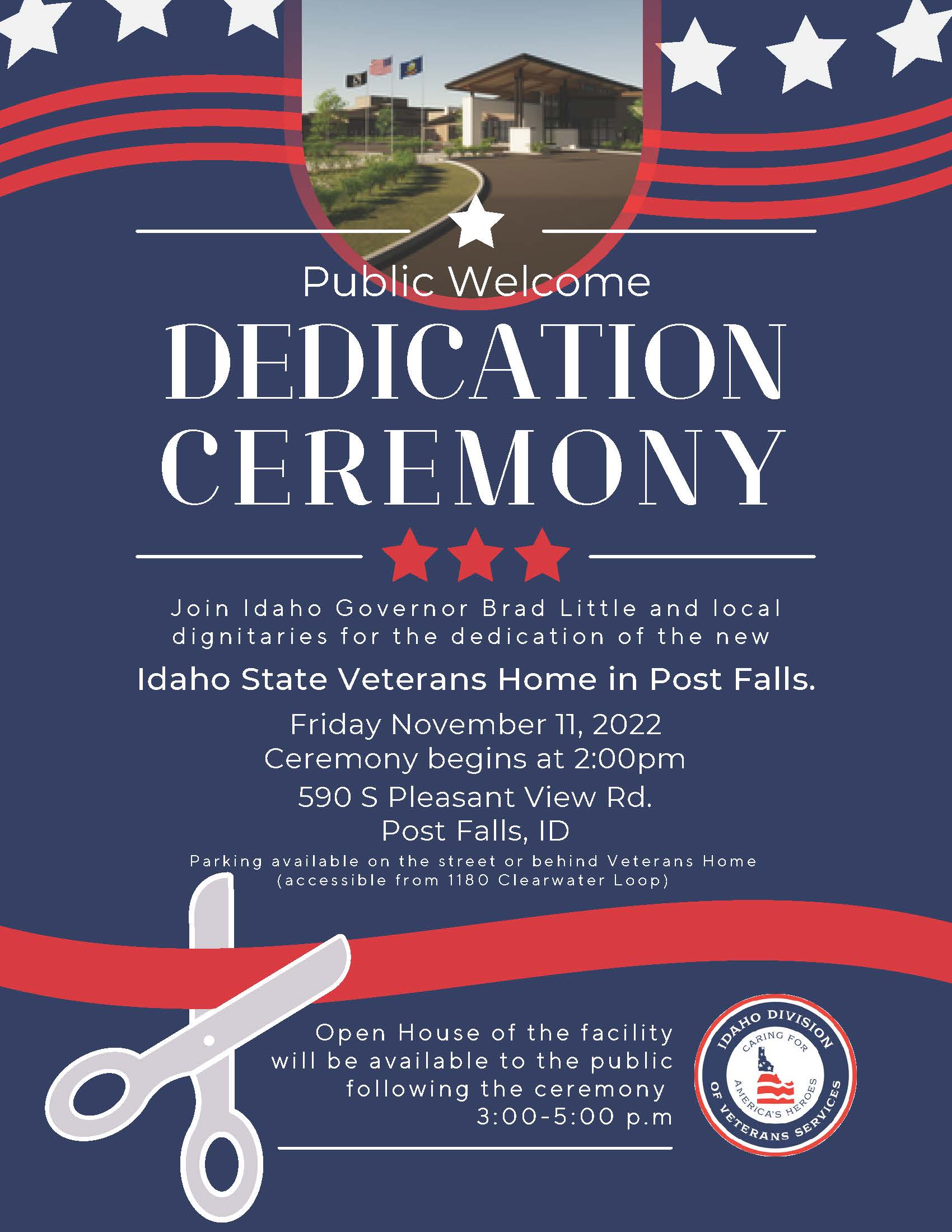 Post Falls Dedication Flyer (.pdf)