Post Falls Veterans Home Construction Update
Friday July 16, 2021
We are pleased to announce that we met our April 2021 target of restarting construction on our Post Falls Veterans Home. We are currently on track with final foundation slaps being poured and progressing to steel and framing in July. Although we postponed construction through the winter months, there was a lot of work being done behind the scenes.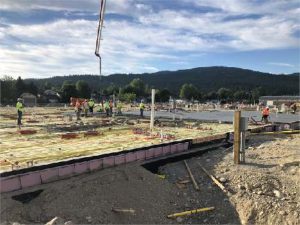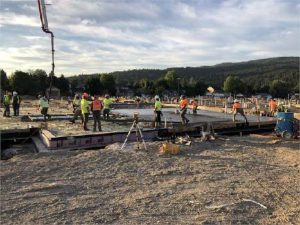 Our agency applied and was awarded 3 additional VA grants for federal relief funding related to the COVID-19 Pandemic. These 3 new VA construction grants allowed for incorporating modifications to the original design which were needed to meet the challenges created by the COVID-19 pandemic. Unlike the original VA construction grant, which is a 65% match in federal funding, these 3 additional grant opportunities were 100% federally funded.
Several of these Post Falls structural and redesign alterations are similar to recently completed retrofits at our State Veterans Homes in Boise, Lewiston and Pocatello. These alterations are intended to enhance the quality of care and services our residents receive as well as protect our residents and staff. They include:
making modifications to the public entrance of the Home to allow for screening of visitors;
upgrading the HVAC system and incorporating UV lighting;
adding a designated staff screening vestibule and staff locker room; and
adding a resident/family visitation suite that can be used during an outbreak, or in times when visitation requirements are restricted.
Our Post Falls' VA federal relief grant funding will also cover the costs of reincorporating additional durable tile, wall and window surfaces to help with infection control and it will fund our piped oxygen system into our resident rooms at 100%.
Final completion of our 4th Home is scheduled for Fall of 2022! When complete, the Post Falls Home will be approximately 85,000 gross square feet consisting of:
One resident neighborhood and a separate community center.
64 bed neighborhoods subdivided into 4 household wings, each supporting 16 private resident rooms with private bathrooms.
Each household will have its own den, sitting lounge, and living area. There are also 2 dedicated dining areas and kitchens that are shared by two households along with multiple outdoor patio areas.
Each household will also have direct access to the main community center, which will include a chapel, barber/beauty shop, bistro, activities center and multipurpose room, sports club, and therapy room/gym.
The home will include a central food preparation area, laundry facility, maintenance shop, supply/loading dock area and an administrative office.
The home will also have a separate entrance on the backside of the Home for our Post Falls Office of Veterans Advocacy with offices for 2 Veterans Service Officers and an Administrative Assistant.
Photos of Renderings of the Post Falls Home.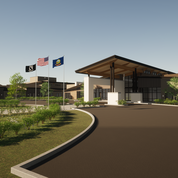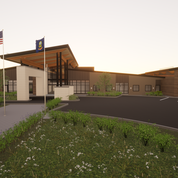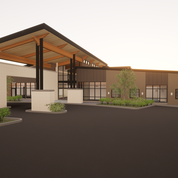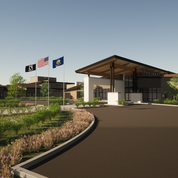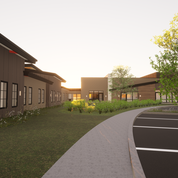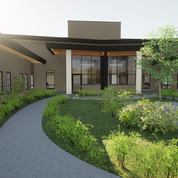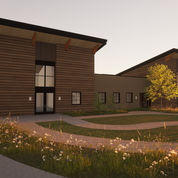 Keep an eye on this webpage, as we will periodically post progress updates. As we near timeline completion (likely 4-6 months prior to opening) we will announce when we are accepting pre-applications for residency, which will also be posted on our website.
Also, with the pandemic restrictions preventing a Ground Breaking Ceremony in 2020, we are now working on coordinating a Structural Topping Out Ceremony to properly celebrate the construction of this facility. This ceremony will entail a painted steel beam that will be set-up outside of the job trailer for VIPs and other attendees to sign. It will then be hoisted into place to signify the "Topping Out" of the building structure. The date of this ceremony will be announced in the coming weeks!